HYDRO FINISH
Product Detail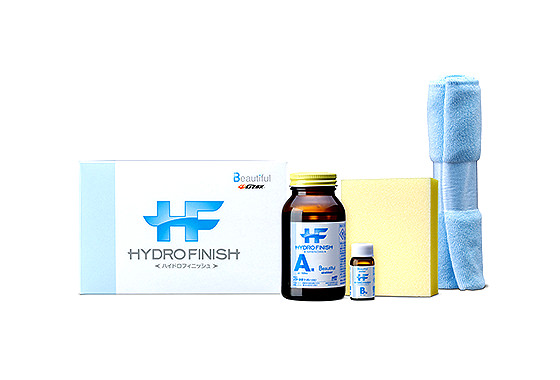 HYDRO FINISH
HYDRO FINISH, a state-of-the-art water sheeting glass coat achieves drainage effect which can rinse off dirt efficiently.
This super hard glass based coating combines special silicone, it performs excellent anti-foul effect. This coating layer has a superior weather resistance which keeps beautiful condition for long period.
Restrict smear and scratch frequently occurs when apply for dark color vehicle. Also take a consideration about environment and detailer's health condition, the ingredient is not contained Xylene, Toruene, also restrain solvent odor.
CONTENT

Liquid A 133ml
Liquid B 7ml
ACCESSORIES

Sponge with puff 1pc
Exclusive Cloth 1pc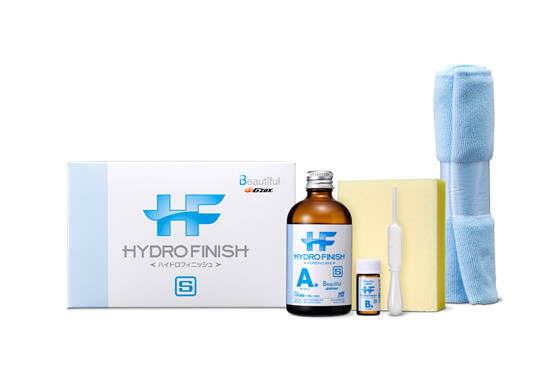 HYDRO FINISH S
"HYDRO FINISH" small amount type.
Moderate amount for small cars.
CONTENT

Liquid A 76ml
Liquid B 4ml
ACCESSORIES

Sponge with puff 1pc
Exclusive Cloth 1pc
Spuit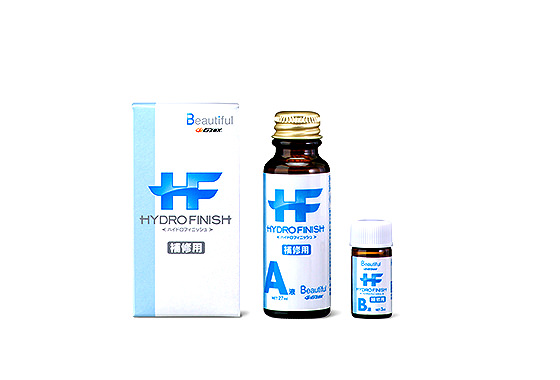 BG HYDRO FINISH REPAIR
HYDRO FINISH Repair is an essential item for applying small area after car panel repair.
CONTENT

Liquid A 27ml
Liquid B 3ml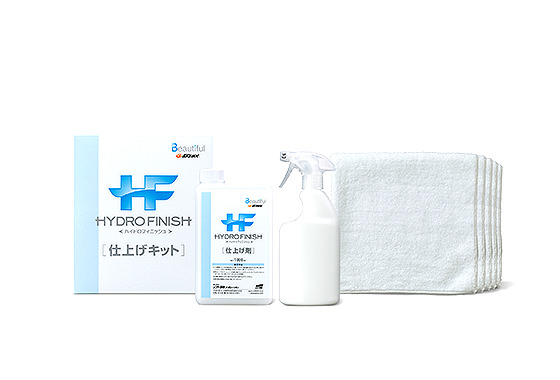 HYDRO FINISH Finish Kit
HYDRO FINISH finish kit complements this state-of-the-art hydrophobic glass type coating producing amazing water and dirt resistance.
CONTENT

HYDRO FINISH Finish Kit 1000ml
ACCESSORIES

Replacement Bottle 1pc
Cloth 5pc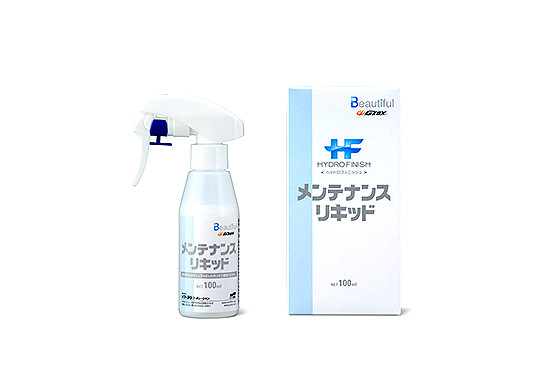 HYDRO FINISH
MAINTENANCE LIQUID
HYDRO FINISH Maintenance Liquid is a DIY maintenance liquid for those who got vehicles treated with BG HYDRO FINISH. It helps easily remove dirt, prevent adhesion and high workability when wipe off water residue by maintaining hydrophilic surface. It creates the body as smoothness and gloss restation effect.