Hi-MOHS COAT The Edge
MAINTENANCE
1.Only Wash with Water in Car Wash!
Just washing regularly with water is enough to maintain the cleanliness of the vehicle and keep the effects of the coating.
Procedure

Pour the water to get rid of dirt such as dust by shower. Lightly rub with car wash sponge.
2.Restoring hydrophobicity with Maintenance Liquid
If the repellency seems to be fading, wash with water or neutral shampoo, and apply the maintenance liquid. Wipe up with the white cloth to restore repellency.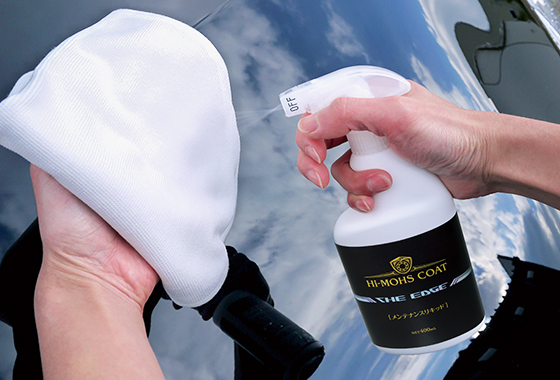 Procedure

Apply two shots of liquid to the white cloth, and apply to the body evenly. Use only clean surfaces of the towel.
3.When Adheres Stubborn Dirt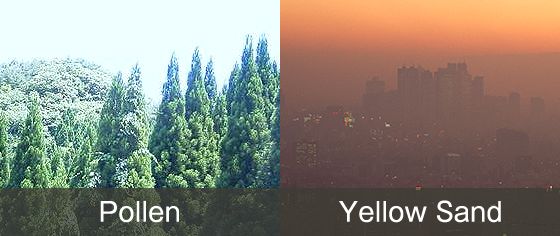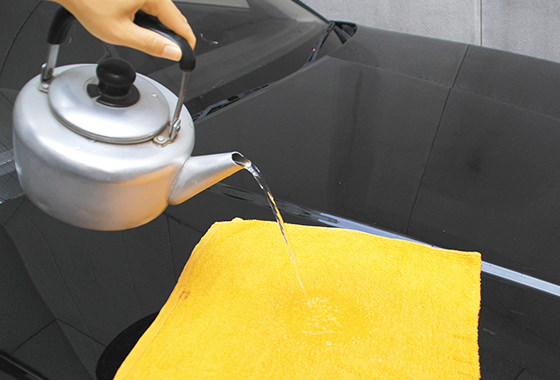 Procedure

In case of adhering hardened bird dropping, sap, dead bug, tar, pollen, yellow sand and so on, put the wet towel, pour boiling water (more than 80℃) on the towel and well penetrated.
Warm by dryer 5-10 min to keep the high temperature. After getting rid of towel, wash with the water again.

In case of applying difficulity or cannot detamine the condition, please inquiry to detailing shop.


*Beware of getting burned when applying.
4.About Car Washing Machine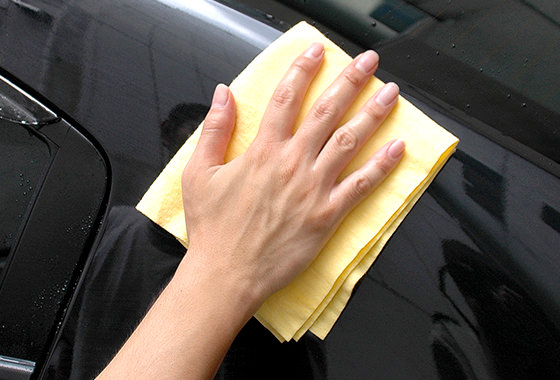 Procedure

After 1 month have passed after coating, available to use only water-washing course by car wash machine. When use car wash machine, wipe off firmly with water repellent maintenance cloth as well.
Attention

* Besure to wipe of water after car wash or rain, otherwise some components in the water may remain and become white.

* Do not use wax in shampoo, scratch remover, abrasive component, wax containing organic solvent and coating agent may damage coating layer.

* In case of repairing by bodywork or re-painting, inquiry the detailing shop where you have applied coating before.

* Recommend to wash with car by hand, because dark color car may stand out brush mark.