Comfort Guard - Fabric Package
Product Detail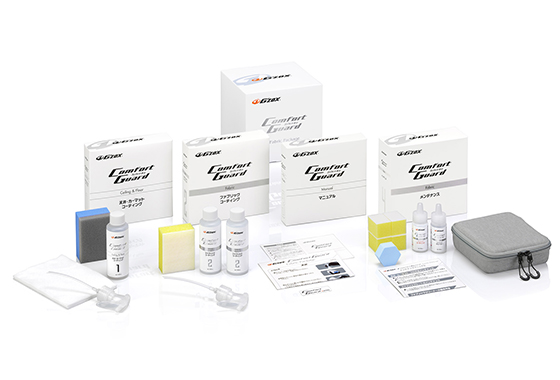 Comfort Guard - Fabric Package
The G'ZOX series' first total coating system for interiors uses advanced chemical technology to create a beautiful and comfortable interior space.
The ceiling and floor mat coatings have excellent deodorant, antibacterial, antiviral, and antifungal effects thanks to a newly developed photocatalytic coating to protect the roof and floors, which tend to harbour odours and germs, dramatically improving cleanliness and comfort of the interior of the car.
Another specialised coating has been prepared for seats, which are particularly liable to get dirty. For fabrics, it has a water-repellent and antifouling effect, preventing sweat, crumbs, spilled food, and other stains from penetrating into the fabric sheet fibres, and so maintaining a beautiful and comfortable interior for a longer period of time.
CONTENT

Ceiling and floor mat coating 100ml
Fabric coating 100ml ×2
ACCESSORIES

Trigger spray 1pc
Sponge 1pc
Cloth 10pc
Trigger spray 1pc
Sponge 1pc
Application manual 1pc
Application certificate 1pc
Application sticker 1pc
Fabric cleaner 30ml
Fabric coating 30ml
Cleaning sponge (blue) 1pc
Cleaning sponge (yellow) 4pc
Maintenance manual 1pc
Maintenance Pouch 1pc