Hi-MOHS COAT
Product Detail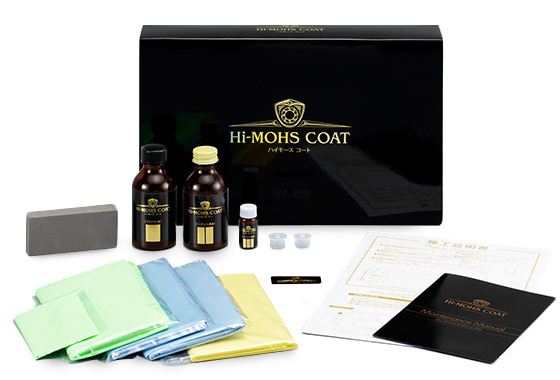 Hi-MOHS COAT
In history of G'ZOX, the highest performance 2 layer structures of glass-based body coating.
Achieve mohs hardness 7 (pencil hardness 9) super harden layer is not only superior to anti-scratch but also protect from UV rays, acid rain and any other harmful elements. Primer coat achieves as same as nearly glass film so as to be reminiscent of celadon's glaze its deep beautiful shine. Also super water repellent top coat has dense fluorine ingredient, which makes smooth surface, water repellency and oil repellency, achieves long lasting anti-fouling performance for long period.
CONTENT

Primer Liquid 100ml
Top Coat Liquid A 63ml
Top Coat Liquid B 7ml
ACCESSORIES

Perforated Inside Plug 2pc
Top Coat Application Pad 1pc
Primer application & Wiping clothes 2pc
Top Coat application Cloth 2pcs
Top Coat Wiping Cloth 1pc
Finish Cloth 1pc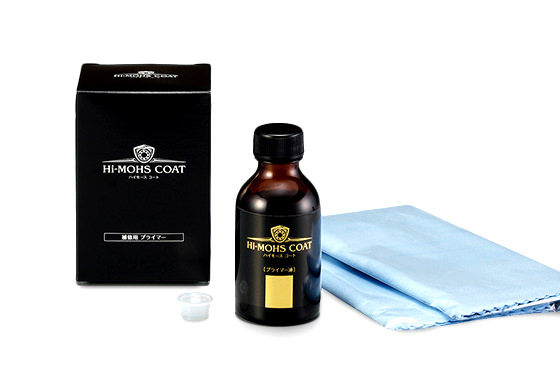 HI-MOHS COAT Primer for Repairing
"Hi-MOHS COAT" primer liquid is necessary when reapply minor area such as after repairing bodywork and paint.
CONTENT
ACCESSORIES

Perforated Inside Plug 1pc
Primer Application & Wiping Cloth 2pc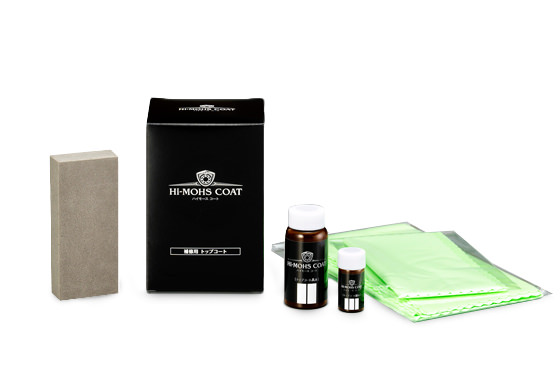 Hi-MOHS COAT Top Coat for Repairing
Hi-MOHS COAT Top Coat liquid for re-application small area such as after bodywork and paint. This small amount type, available for 2 panels of hood and fender. Available for detailed application after bodywork and paint. Application Cloth is also included.
CONTENT

Liquid A 16ml
Liquid B 4ml
ACCESSORIES

Pad for Top Coat 1pc
Cloth for Top Coat 1pc
Wiping Cloth for Top Coat 2pc